THE LABORATORY
---
Our workshop, for the manufacturing of Lardo can be found at the entrance of Colonnata. Where since the last century, has been situated at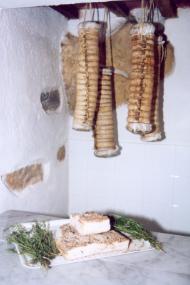 the "marmifera" station, a railroad once used for the transportation of marble blocks from the quarries.
Our preparation of the Lardo respects and follows the vigilant discipline of the recipes passed on from generation to generation, of the inhabitants of Colonnata.
We also manufacture other derivatives of pork, such as Pancetta (Bacon), Coppa, and Crema di Lardo (Lardo Spread).
We give to the interested groups of tourists the opportunity to taste our local tipycal products and to visit our laboratory.
Please come and visit us in Colonnata or order our salted pork meats by means of this website or making a phone call to the number 0585 758027.